Archon type b for sale
MANUFACTURER: Guns Buyer USA
MODEL: TYPE B
CALIBER: 9 MM
MAGAZINES: FOUR 15 ROUND
SIGHTS: NIGHT SIGHTS
SKU:GEZ
Specs
| | |
| --- | --- |
| Firearms | Semi-Automatic, Handguns |
| Caliber | 9 mm |
Archon type b for sale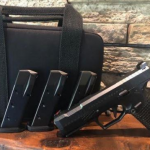 Buy archon firearms type b with night sights
archon firearms type b with night sights for sale
TYPE B Pistol, Black Nitride Slide, Fiber Optic Target Sights
The Flagship pistol of Archon Firearms, the Type B, features the ground-breaking AF-Speedlock technology. This new unique style of barrel lockup allows the firearm to sit lower in the hand providing the lowest bore axis of any current production pistol. The resulting effect is a completely different shooting experience.
On Type B, the AF-Speedlock is mated with many features that are not offered by any competitor out of the box. The following features come standard on every Archon Type B pistol:
Fiber optic front sight with the blacked-out rear cut from billet steel. The slide uses a standard Glock dovetail and front sight for ease of change if preferred.
Front and rear cocking serrations.
AF-Speedlock locking mechanism.
Match-grade traditionally rifled barrel coated in black nitride.
Three-stage recoil rod with uncaptured mainspring (for ease of service and tuning)
Inner-frame milled from billet steel featuring full-length rails.
Integrated beavertail with featured contour to activate tendon in hand for better grip.
Integrated Picatinny rail for weapon attachments upfront.
Full metal, flat-faced, short reset trigger.
Oversized trigger guard for use with gloved fingers.
Metal magazine release that is easily reversible for left-handed shooters.
Innovative Grip Mapping texture designed to actively fight the direction the gun wants to rotate during recoil.
Integrated mag well.
Full metal magazine with baseplate designed for ergonomic loading with grid pattern for ease of marking.
The Type B ships standard with the following items:
Four (4) Magazines
Malterra designed a high-quality range bag made with 500D Nylon
Silver AF USA Permanent Marker (for marking magazines)
EEXOX gun oil
California Compliant Safety Lock
User Manual
Type B truly represents Archon Firearms' commitment to redefining the industry standards by driving new levels of technology, performance, ergonomics, and functionality never seen before.
All Type B pistols are backed by Archon's lifetime warranty.
Product Information
Finish Black
Caliber 9mm
Capacity 15 + 1
Sights Fiber Optic Front
This Is A Brand New Pistol Under Full Warranty
Archon Firearms is committed to innovating and manufacturing the best weapons platforms and accessories available for the commercial, military, and law enforcement markets.
The Company's flagship pistol, the TYPE B, is based on its groundbreaking AF-Speedlock technology which represents the company's commitment to redefining industry standards by driving a new level of technology, performance, ergonomics, and functionality never seen before.
Type B is a striker-fired 9mm pistol that features Glock standard dovetails, front and rear slide serrations, beavertail frame, flat-faced trigger, short reset trigger.
All of these features provide a level of performance not commonly found in a production gun.
Standard on the Archon Firearms Type B is an integrated flared mag well for enhanced reloading. All Type B pistols ship with FOUR 15 round Mecgar magazines
Proprietary grip mapping technology that is standard on the Archon Firearms Type B frame. This mapping technology provider the end-users with a richer ergonomic experience.
Features:
TYPE: Semi-Automatic Striker-Fired Pistol
CALIBER: 9mm
CAPACITY: 15 Rounds, Double-Stack
FRAME: Black Polymer
SIGHTS: Serrated Rear w/ Front Fiber Optic Sight (Glock Standard Dovetail)
BARREL LENGTH: 4.29″
WEIGHT: 29.6 oz.
LENGTH: 7.59″
HEIGHT: 5.12″
WIDTH: 1.38″
SAFETY FEATURES: Trigger Block, Firing Pin Safety Block, Trigger Bar Disconnect
Check out Our Home Page Gunsbuyerusa.Com and be sure to subscribe to our email list to stay current up to date on our latest deals. Subscribe to our email list in the lower right-hand corner of our website.
Guns Buyer USA Offers The lowest prices on new and pre-owned firearms. Check out our current inventory at Gunsbuyerusa.Com
https://gunsbuyerusa.com/product/archon-firearms-type-b-with-night-sights/
archon type b
Archon type b for sale
archon type b review 2023
AK 74 for sale
AK rifles for sale